Advent Calendar Boxes
Simple, yet charming, each Advent calendar box has 24 drawers holding wonderful treats for the 24 days to count down to Christmas.  Christmas Countdown Box Advent Calendar – it's a tradition that you will have for life! (See all eight of our Advent Calendar boxes below.)
It really almost has a gypsy feel to it: Colorful with its bright red and yellow, beautifully decorated, small knobbed legs…  This is the Vintage Advent Calendar box. It will create many memories for friends, grandparents, parents, and of course, it's a great Advent calendar for children.  Plenty of room for those gifts you've collected to put in each calendar drawer, or to use the ornaments that come in each drawer ready to load onto the Dr. Seus-like Christmas tree!  Measures about 24″ x 7″ x 5.5″.  BUY NOW: $134.97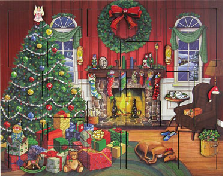 The Fireside Christmas Avent Calendar: It's Christmas as you want to remember it and see it.  All the details are here, including the burning fire, the stockings, the Christmas tree, the presents, even a sleeping dog and cat!  This Byers Choice  fireside countdown calendar will suit any Advent tradition from young to old, from children to friends or the elderly.  Hide presents or candy behind each of the 24 numbered doors and countdown to Christmas!  Measures 18″x15″x2.5″.  BUY NOW: $55.97
The Christmas stockings wooden Advent calendar is very special and unique because you can personalize each of the six stockings with a magic marker!  Friends, family, children, pets…  It then becomes an entrenched tradition to count the days down to Christmas.  Imagine passing this wooden Advent calendar down from generation to generation – and this wood calendar is strong enough to withstand it!  This calendar has one of the largest spaces behind each of 24 numbered doors in which to hide small toys or candy: 3″.  Really a beautifully done Advent calendar.  Measures 18.5″x15″x3″.  BUY NOW:  $79.99  SOLD OUT!
This box Advent calendar has a simple but classic design…  24 numbered drawers, all that will hold a small gift to countdown to Christmas!  One of our larger calendars, the drawers will hold more than most: 17″ x 15″ x 3″.  BUY NOW: $49.99   Sold Out!

Step back to another time, when things were hand carved, rustic, and absolutely charming…  and you will have this rustic wooden box Advent calendar.  Each box holds a small ornament to be placed on the Christmas tree that comes with the calendar.  This is tradition at its best – everyone has their favorite ornaments as time goes on, and on Christmas Day, the tree will be decorated!  The box measures 24″ x 6″ x 6″.  The tree stands 16″ tall. Customers voted this the best Advent Calendar sold on the internet!  Quite an honor!  BUY NOW: $129.99  

So very clever and cute when it's finished!  The Paper Box Advent Calendar is so simple – why didn't we think of it?  It's simply 24 numbered brightly colored boxes that can be tiered for a great Christmas countdown calendar.  The boxes are small – each measures about 2.5″ x 1″.  But it's just perfect to put those little treasures in for Advent.  Terrific!  BUY NOW: $4.99
This is a wonderful gift – not just for a couple to give one another, but for others to give to the couple.  They can then pre-fill the calendar with their gifts for a wonderful holiday celebration leading up to Christmas.  The First Christmas Advent Calendar can also be used by couples who are celebrating milestone anniversaries in a particular year.  Load the countdown calendar with gifts that are reminiscent of the first years together!  A beautiful and memorable way to celebrate Advent and Christmas!  BUY NOW: $59.99  Sold Out!
There's more to this Advent calendar than probably any other calendar in our collection!  The Christmas Traditions Advent Calendar is a lesson – this Advent calendar with drawers allows you to intermix the drawers so your children can learn to find the correct number as the countdown progresses, and to put the drawers in order.  Next, once the calendar is complete after Christmas Eve, you can turn the calendar around and there's a winter scene so you can use it for the rest of the winter!  Plus the Advent Christmas calendar comes pre-loaded with lots of goodies to eat in each drawer.  (Or buy your own as well!).  This countdown calendar is meant to be hung. Measures 8.5″ x 8″.   BUY NOW: $16.99