Birdhouse Wooden Advent Calendars
Decorative Bird Houses
If you're all about birds then you'll understand the attraction of decorative birdhouses. What better way to count down to Christmas than with a birdhouse Advent calendar? Each of our unique birdhouses will remind you of your feathered friends outside. Consider it an inside bird watching experience!
Hmm. Now for stocking stuffer ideas… Because these little birdhouses need a treat to dispense!  And what better than these adorable magnetic animal bookmarks.  They're the perfect size and wonderfully unique!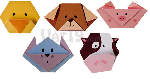 Or, holiday chocolates… Or wine glass markers…


24 birds hide behind the 24 doors and windows of this cabin-style wood house Advent Calendar. This is a timeless wood calendar with birds and a house that never change, never go out of style. And it will appeal to so many people! Give the gift to a toddler, and they could have it for a lifetime! Measures 11.25″H x 13″W x 10″D. BUY NOW: $154.99 Sold Out.

is wonderful – no other way to describe it!  Young or old, man or woman, friend, child, or relative…  this calendar will please everyone.  There are 12 little birds hidden behind 12 doors on the house to countdown the first 12 of 24 days until Christmas.  After all the birds have been brought out and perched on their pegs, refill the calendar with small gifts or candy and finish the countdown to Christmas!  Measures 10.5″x14″x7″.
BUY NOW: $115.20   Sold Out.