Christmas Charms for Calendars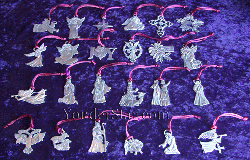 There is so much you can do with charms that have a Christmas theme!  Start with your wooden advent calendar.  Many of the calendars have areas where you can hang Christmas charms; some even come with trees (such as the wooden Advent boxes) or rotating features (such as the Heartwood Creek Jim Shore Advent calendar) where you can hang the charms after they have been removed from their drawers or compartments.
These nativity charms that can be used with Advent calendars.  They are a perfect size, and the set of 24 pewter charms (or ornaments, as some call them) are absolutely beautiful.  They can be inserted in any drawer or behind any door or hung on any of the calendars! They are especially good, however, for hanging on the nativity wooden Advent calendar. It's like a treasure hunt – who will get which charm to hang this year? These beautiful pewter charms can also be put on a charm bracelet or necklace, or hung on a small Christmas tree as ornaments. The largest charm measures 2.5″x2.5″. BUY NOW: 20% off! $172.80  20% off now!
Note: The nativity charms are carried by our supplier, Yonderstar.  When you are directed to their site, type "pewter ornaments" in the Search box in the top left corner, and you will see the Christmas Charms.  Use Coupon Code FIVEOFF at checkout and receive $5 off your order!