Gingerbread Advent Calendars
The gingerbread Advent calendar is one of the most popular wooden advent calendars made.  Full of detail, the gingerbread advent calendar house is a calendar that will please people of all ages and genders.  There are all sorts of goodies and presents that can be put in this wonderful Advent calendar.  Each of the doors is actually a drawer – to insert your gifts. (Need ideas for calendar or stocking stuffers? See Calendar Stuffer Ideas for Young Girls or others you can see to the right.)  24 doors, 24 days to countdown to Christmas!
Measures 10.5″ x 8″ x 9.5″. $39.98
Need stocking stuffer ideas for your calendar?  How about food erasers? Or mini beach wine markers? Or holiday chocolates, individually wrapped?

All we can say is WOW! This is one terrific gingerbread house Advent calendar.  It's not just a 3D Advent calendar, it's a complete little house.  This is one of those Advent calendars for children that's a perfect Christmas house – a cookie house, if you will, that will easily become a much looked forward to tradition in your family.
Measures 15.75" H x 2.75" W x 11.5" D.  BUY NOW: $44.99.

Don't forget those calendar stuffers!  (Stocking stuffers too!): How about assorted jelly beans?  Or favorite team personalized M&M's?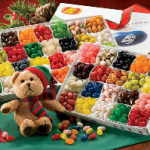 This is a terrific gingerbread wood calendar!  It needs to be "assembled", which means some one on one time with a child who is going to love it when done! (Very easy assembly.) The unique thing about it is that it can be personalized by writing in the name of the receiver. It's simple, but very, very cute. Measures 11.5″ H x 10.25″ W x 9.25″ D.
BUY NOW – IN STOCK: $55.99