Jim Shore Advent Calendar Gingerbread House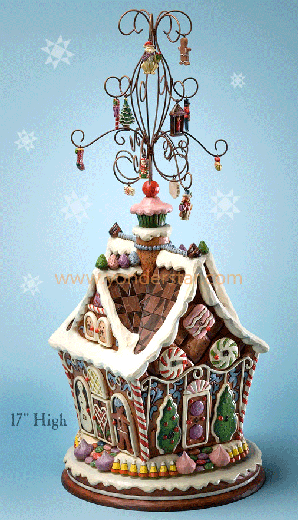 Make it a Jim Shore Christmas!  Not only is this Jim Shore Advent calendar one of the most beautiful Advent calendars that you will ever see, it is an exquisite and unique Christmas present.  It's a gingerbread house Advent calendar! Each of the 24 drawers all the way around the house holds a small Advent ornament that hangs on the curly cues on top of the house.  There's also enough room in each to hold an additional small gift.  And it's on a base that swivels for 360 degree viewing.  This magnificent stone and resin Advent Calendar, made by Jim Shore, comes in limited quantities, so order now!  Measures 17.25″h x 8.5″w.  BUY NOW: $299.99 Sold Out.
When you click on BUY NOW, you will be taken to Yonderstar's main site – they are the supplier.  Once there, type Jim Shore Advent Calendar into the SEARCH box at the top left of the page and you will be taken to the calendar!

The ornaments that come with the calendar are small, detailed Christmas ornaments, each made of stone and resin, beautifully painted.