Nutcracker Advent Calendar
Nutcrackers, especially in the form of the Nutcracker Advent Calendar box, are a Christmas tradition.  And whether you buy the large Heirloom Nutcracker Advent calendar or the small, these are especially wonderful, as they create wonderful Christmas traditions.
A special bonus: Each advent wooden calendar box is a puzzle as well as a calendar.  Mix the 24 drawers around, and as the countdown to Christmas progresses, the picture of the nutcrackers will come into full view.  Put a small gift or candy in each drawer and count the days until Christmas!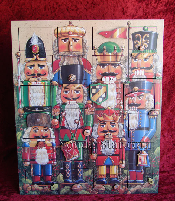 (Large) Heirloom Nutcracker Advent Calendar – Measures 15″ x 18″.
BUY NOW:  $79.99  Sold Out.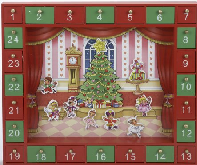 The Nutcracker Ballet is a favorite among children of many ages.  It's a wonderful story about toys coming to life set to beautiful music that has become a Christmas tradition.  What better way to celebrate this tradition with a Nutcracker Ballet Advent calendar?  This wood Advent calendar depicts the stage of the ballet surrounded by 24 drawers which each hold a character or scenery from the ballet.  As the countdown to Christmas progresses, the magnetic elements are removed and set in the middle of the calendar.  By Christmas Eve, the stage is complete.  But wait, there's more!  Because with the calendar comes the story of the Nutcracker Ballet, so that each day as the countdown to Christmas continues, a portion of the story to accompany the calendar is read.  It's truly a tradition in the making.  Measures 17″H X 14.5″W X 1.5″D. BUY NOW: $89.99   Temporarily out of stock.