Truck and Train Wooden Advent Calendars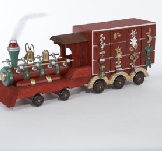 There's a little surprise ornament tucked away in each of the boxes on this wooden train Advent calendar, which can be hung on the train or on your own Christmas tree!  (Caution: The pieces are small, so beware of little ones putting them in their mouth, nose… )  This wooden calendar will be remembered for a lifetime, and it's durable enough to last that long!   19″ long x 7″ x 5″.
BUY NOW: $74  Sold out, see some suggestions below!

Not large, but oh so delightful is this heirloom quality wood Advent calendar!  Santa's in the engine, pulling along a box car loaded with his Christmas Tree through the snow.  All this atop an Advent calendar with 24 brightly painted deep red drawers, each with its own decoration painted on the drawer.  Very cute!  Measures about 10.5″ x 2.25″ x 12″.  BUY NOW: $88.89 

What childhood isn't complete without Legos? Combine the fun of building a Lego set with the countdown to Christmas with Lego Star Wars 2011 Advent calendar, and your child will be enthralled.  Day by day the scene grows, a little bit at a time.  By Christmas eve, it's complete! BUY NOW: $39.99
If your child isn't particularly fond of Lego Star Wars, Lego City Advent calendar might be a better fit!  Build an entire little city during the 24 day Christmas countdown, including policemen in mini cars, a brightly lit Christmas tree, and of course, Santa Claus! BUY NOW: $34.99