Wooden Advent Calendar Houses
We have a nice selection of wood calendar houses: From traditional to fun to a little different!
Colonial Door Wood Advent Calendar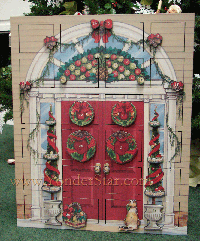 We have two of the Colonial Door Advent Calendars left! They have been discontinued by Byers Choice and are considered a collector's item.
"Welcome to our home," this wood Advent calendar seems to say! Decorated for the holidays, the entrance to this colonial mansion beckons children and adults alike to open each of the 24 drawers to discover the presents and treats hidden within.  The 2.5″ depth is just enough for you to put gifts that are just perfect for that special someone.  Measures 15″ x 18″.  $75.99 + shipping.  2 left!  Contact us directly: admin@adventwoodencalendar.com.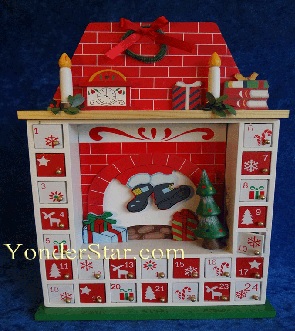 Part of the Kurt Adler calendar collection, the Christmas Fireplace Advent Calendar comes complete with small ornaments hidden behind each of the 24 doors as a countdown to Christmas. As you open each compartment each day, you can hang the ornaments either on your Christmas tree, or on the handles of each of the doors.   Well made, it could serve as an Advent tradition for generations. Measures 10″L x 15″H.  BUY NOW: $66.99 
 
This is a cute one! Two sided – which means plenty of room for gifts in the barn.  The Country Barn Advent calendar has 24 little drawers that you can put charming gifts or several pieces of candy in to celebrate! Made of wood, 3D, measures 16″ H x 8.25″ D x 6″ D.  BUY NOW:$37.99  Huge Sale!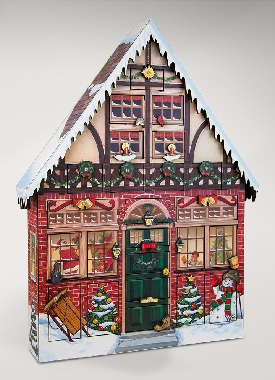 (Featured on the Home Page)  This is one of the nicest and most popular Advent calendars that we sell. It's a Byers Choice heirloom wooden calendar (3D) and is a replica of a beautiful old home, decorated for the Christmas holidays.  The detail on this wooden Advent calendar is simply amazing.  24 doors for 24 small gifts to be hidden.  The Christmas House Advent calendar is a gift for all ages and genders crafted beautifully as well as being durable.  Measures 16″ x 22″.  BUY NOW:  $84.95
What's Christmas without your own Gingerbread House countdown calendar?  As with so many of these Byers Choice calendars, the detail is just wonderful.  Perfect for putting 24 gifts to count the days until Christmas, and perfect for a tradition to be handed down through the generations. 3D, measures 16″ x 22″.  BUY NOW: $82.99  Out of stock – on order.

It's a scene as old as Christmas itself: Children and their parents staring wistfully into the brightly decorated windows of a wonderful toy store.  This is the St. Nicholas Toy Shoppe collectible Advent calendar.  It's new for 2011 from Byers Choice, and it's one of their best ever.  Behind each of the 24 drawers in the Shoppe is room for a sentiment, a present, an activity. But also, when you open the door, a traditional Christmas carol will play. It's the kind of wood Advent calendar that will remind children, grandchildren, and generations of a family that Christmas is truly on its way!  Measures 15″ x 18″.  BUY NOW: $160.99  Sold Out!


Well the Griswold's have one of these resin Advent calendar houses – why shouldn't you?  This Advent calendar house was featured in National Lampoon's Christmas Vacation movie.  It's stunning, really, with 24 doors to show 24 beautiful scenes.  Tremendous detail.  3D, resin, measures 12″ x 13″ x 6″.  Sold Out!
This is Christmas! Carolers joyfully singing in a beautifully decorated home, cozy and memorable. 24 doors, each to hide a special small present, charm, or candy. The door for the 24th is extra large for a larger present!  Measures 18″ H x 14″ W x 3.5″ D.  BUY NOW: $94.99